Adashi Alert
Digital Dashboard for Your Public Safety Agency
Adashi Alert is a revolutionary way to notify departments of incoming incidents and boost turn out and response times.  This digital incident dashboard directly connects with computer automated dispatch to notify stations of new incidents and display all active calls.
The alerting system is designed to give firefighters access to critical data, improve turn out and response times, and create a common operating picture across the whole agency.
Key Benefits of Adashi Alert
Learn how Adashi's Digital Incident Dashboard and Alerting System Can Benefit Your Department
Adashi Alert was created to provide firefighters, company officers, and Chiefs with critical information that is relevant to turn out and response. Our incident notification dashboard can connect with a variety of different data sources including street view maps, weather radar, and more based on your agency's needs. Contact us at sales@adashi.com with any questions.
Supported Devices
What Devices Does Adashi Alert Run On?
Adashi Alert will work on any internet-connected television or computer monitor. Generally, we suggest that agencies use smart TVs mounted on a wall in their station, but the application can be used however best suits your department. While we do not provide the hardware for Adashi Alert, agencies can purchase or use whichever kind of device best meets their needs.
Check Out More Adashi Alert Features
View Key Information All in One Place

View All Active Resources
See which units and apparatus are currently on duty and actively responding to incidents.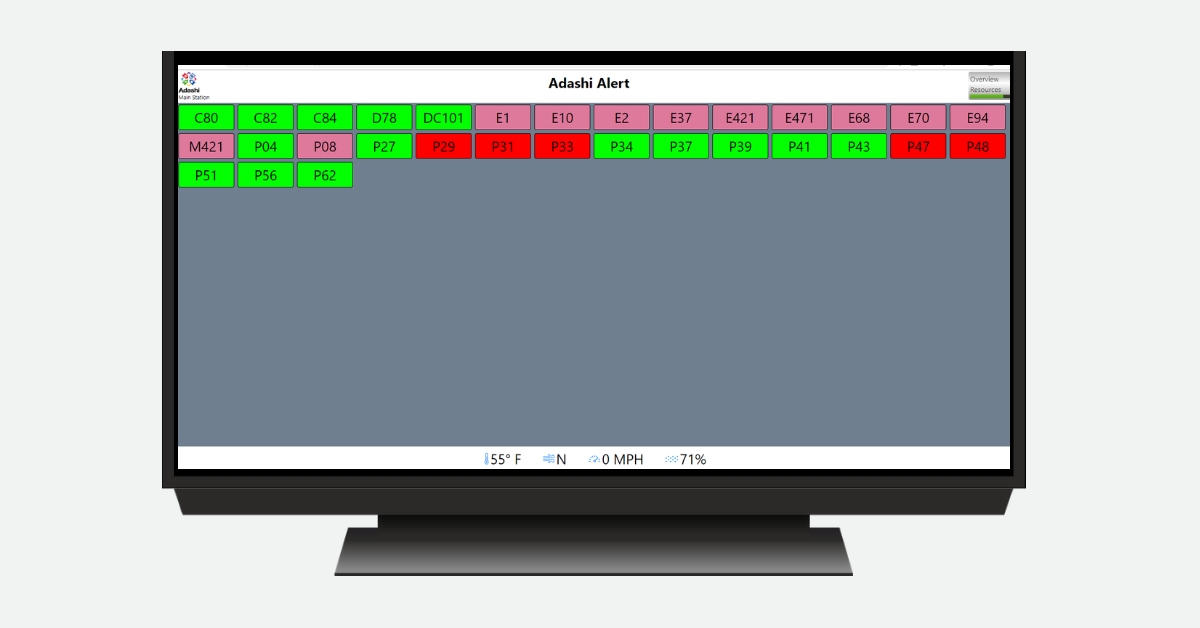 Access Weather Information
View wind and weather radar information in real-time for improved situational awareness.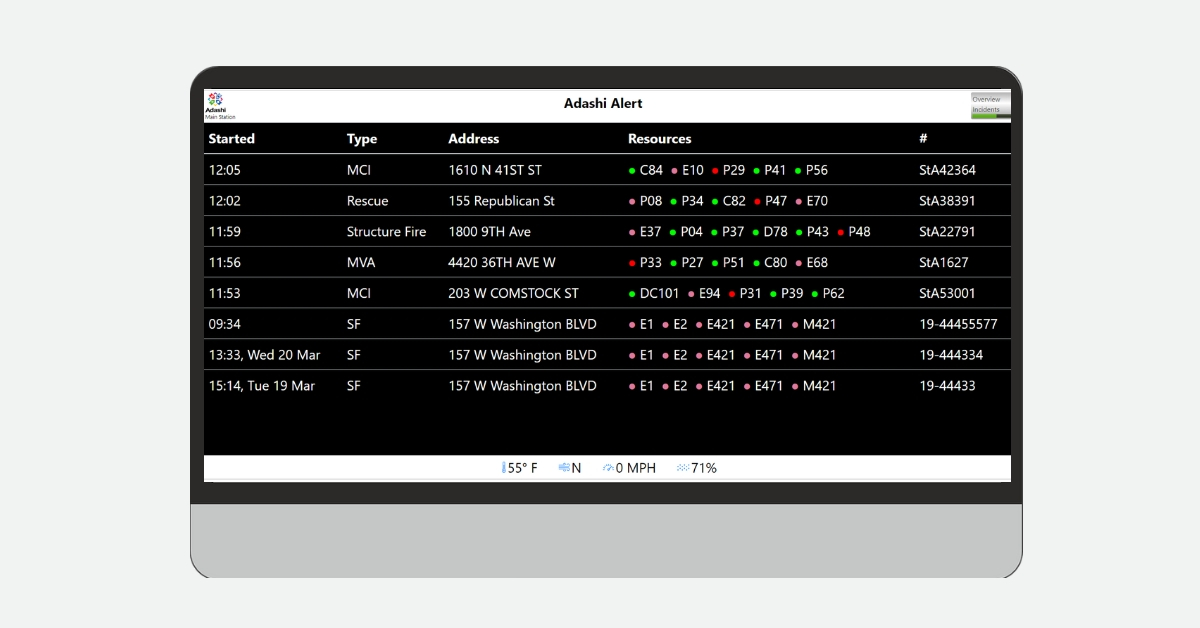 Gain Key Incident Data
Access critical data from dispatch including the incident type, location, and responding apparatus. Use this screen to get a big-picture view of all active incidents in your region.
Ready to See Adashi Alert in Action?
The Adashi Suite of Products
See How Adashi Alert Fits into the Adashi Public Safety Platform
All of Adashi's public safety solutions seamlessly work together, giving public safety organizations an end-to-end tool.
From beginning to end, we keep your information secure and ensure that it's recorded and transferred to the appropriate system.
Use Adashi to make the backend of public safety organized, efficient, and stress-free.
Contact us to learn more about how our products connect and what departments gain with the full suite of Adashi products.
FirstResponse MDT
C&C
RollCall
Want to learn more about how Adashi can help your organization?