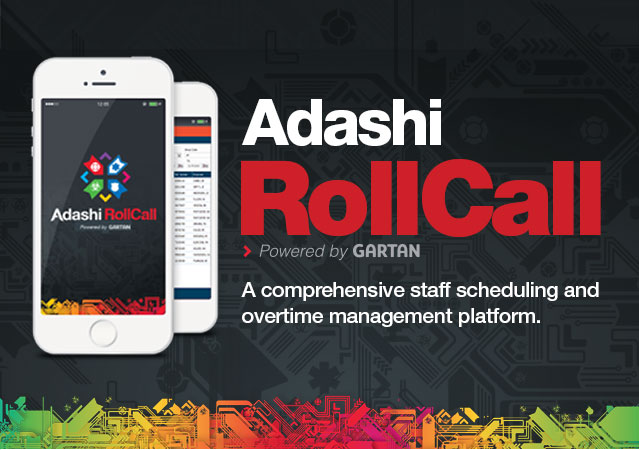 Adashi RollCall Public Safety Scheduling Software
First Responder Staffing Made Simple
Emergency services organizations often have distinct scheduling patterns or rotations. Creating staff rosters can take administrators hours to complete – but first responder staffing doesn't have to be time-consuming or complicated.
Adashi RollCall is a one-of-a-kind public safety scheduling software designed to help administrators minimize labor costs, ensure compliance with union rules, save time, and increase efficiency.
Adashi's first responder staffing software is an enterprise-level solution designed specifically for firefighters, police officers, EMS, and others in the public safety industry.
Our scheduling software integrates with Adashi's other products to provide an end-to-end experience for our users. From even before an emergency starts, your public safety agency will have the right crew on duty to handle any incident.
Public Safety Scheduling Software is Going Mobile
Access Adashi RollCall From Any Location – Right From Your Smartphone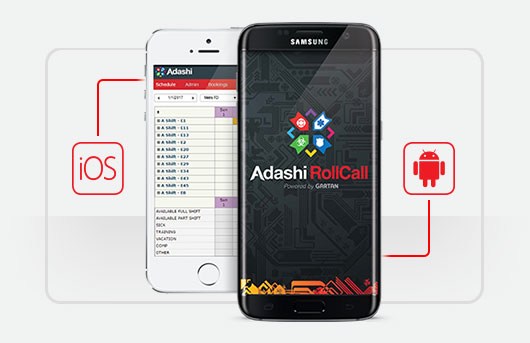 Android and iOS Apps
Adashi offers mobile applications to make first responder staffing accessible and convenient for everyone involved. Instead of going into your station to check your schedule or request time off, emergency responders can see their rotation and make changes right from their smartphones.
First responders can use our mobile apps to:
request bookings and shift adjustments
view how much leave they have available
see their monthly rotation
receive messages from commanders and more.
The Adashi RollCall app can be downloaded directly from the Android and iPhone app stores.
How Adashi RollCall Benefits Everyone At Your Agency
Get real time views of staffing
Extensive labor and management reports
Minimize noncompliance risk
Control labor costs
Track employee certifications and qualifications
Supports union or business rules for various
departments and groups
Real time views of staffing for each battalion/dept
Ensure daily staffing and assignments are completed in a timely and effective manner
Automatically assigns overtime positions based on rules, reducing risk of noncompliance
Automatically validates scheduling decisions
Identify and avoid understaffing or overstaffing
Approve requests for vacation, sick days or trades
Create daily roster for export to RMS and payroll
Self-serve access via web or apps
Sign up for voluntary overtime
Notifications of overtime shifts via iOS
and Android apps
Conduct shift trades via web or apps
Access to personal history and real time activity
and accrual information
Check Out More Features from Adashi's First Responder Staffing Software
Want to learn more about how Adashi can help your organization?