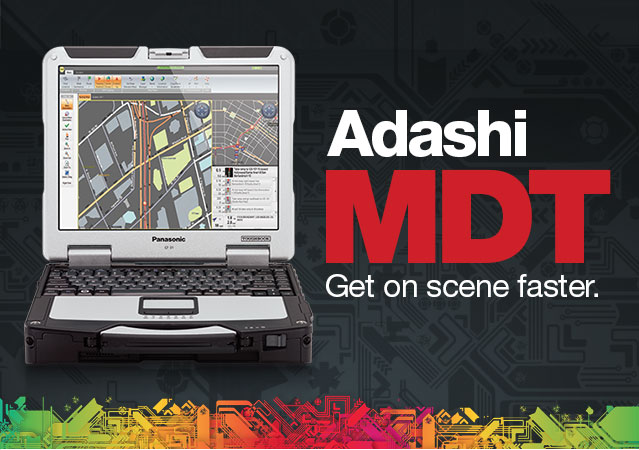 FirstResponse MDT
Incident Response Software
FirstResponse MDT gets first responders on scene faster with all the critical information needed enroute. No switching between programs. No fumbling through pre-plan binders or outdated map books.
Our unique incident response software provides public safety departments with all the information they need for a fast, coordinated, and intelligent response.
Find an MDT that meets your agency's needs. Learn more about FirstResponse MDT's features and functions to see how our software helps public safety agencies worldwide.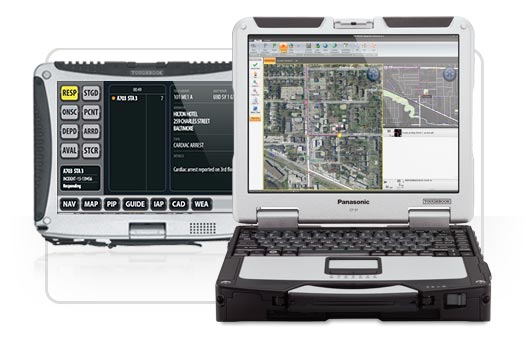 See more MDT product features
Learn more about FirstResponse MDT
Want to learn more about Adashi's public safety software?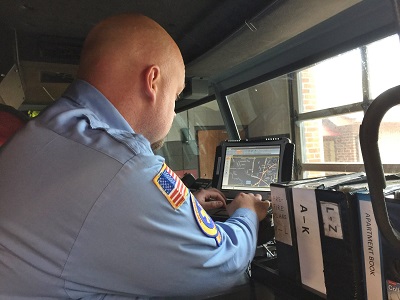 "The JFD uses Adashi for routing and electronic pre-fire plan review. The program works with our CAD system providing in-unit updated information about incidents while still responding. The crews can see all the information that dispatch has on the call as well as the routing information. The Adashi program is one of the most reliable applications that we run."
Tracks and displays the response unit's current position to other connected computers.

Automatically routes the vehicle to the incident location on NAVTEQ or your ESRI street maps.

Automatically displays closest pre incident plans, building information and preplan drawings.

Informs the dispatch center of responder's status.
Gets you there faster using multi-view maps with clear icons, local GIS overlays (hydrants, sewage/power lines, points of interest), precise navigation and routing.

Provides guidance information with predefined or local SOGs

Integrates easily with CAD and 911 Systems for faster, coordinated response using direct interfaces, emails or text messages.

Quick Search Capability if no CAD interface is available.
Old Mystic Case Study
Adashi's MDT software also helps mutual aid partners share and access pre-plan data across jurisdictions. Check out our case study on the Old Mystic Fire Department for more information.
More Powerful Features
to get you on scene faster.
A fully integrated stand-alone navigation solution including precise, reliable route generation, display, and turn-by-turn directions (text and voice). ADASHI can also accept routing information directly from your CAD and AVL systems. GPS tracking and Center-Me map explicitly show your location, keeping you in contact and control.
Fast and Accurate
Navigation and Routing gives you a fully integrated stand-alone navigation solution to your GPS tracking system. Navigation and Routing includes multiple display route generation and turn-by-turn directions (text and voice).
Intelligent Overview
After the incident location is entered by the user or provided automatically from CAD, ADASHI calculates an optimal route to the scene. Similar to commercial off-the-shelf navigation systems, ADASHI announces turn-by-turn directions to the incident scene en route. On-screen next-turn directions are displayed as well as destination information. The system also simultaneously displays multiple active maps, augmenting the user's experience with route overviews and visual progress to destination. When appropriate, the screen can be split into multiple sections, one or more of which can provide a detailed exploration of the destination incident site.
Vehicle Tracking and Location Finder
Real-time vehicle position tracking and an interface to GPS hardware is included in all of the ADASHI products with or without the navigation and routing option. However, the navigation option utilizes the tracking capabilities to display current location along the calculated route for all maps on the screen.
The Location Finder lets you search two ways; what points of interest are near any point on the map, or locate points of interest by name, category or trait.
GIS Mapping
ADASHI provides the most technologically advanced GIS mapping system which can display fire hydrant locations, utility lines, sewage systems, water mains and more – all easily seen in the view manager.
The optimal route is automatically recalculated when "off-route" or if the incident location is changed. Routes are optimized locally, however if your CAD has the capability of transmitting routes ADASHI can utilize external routing for central coordination of traffic flow.
In GPS-equipped vehicles, ADASHI Dispatch will transmit status information and real-time vehicle tracking with Automatic Vehicle Location (AVL) to ADASHI First Response and Command Post software. AVL also displays in the tactical map sketched by the Incident Commander in Command Post. Routing in Dispatch utilizes AVL tracking to display the vehicle location on built-in Premium NAVTEQ mapsets for US, Canada and Mexico for  accuracy, speed and reliability.
NIMS Resource Management and Tracking
Full mobile Automatic Vehicle Location (AVL) allows incident commanders to see and re-route units in real time… all with the flick of their finger on the touchscreen interface. Resources in the field instantly receive a pop-up notification of the new assignment along with optimized turn-by-turn routing to get them there. An open API accepts transmission and display of blue force tracking. Manage and assign responsibility using hierarchical org chart lists. You can drag and drop roles and resources on the map to reflect either their current or planned location and include messages with their new orders.  Real time resource management and tracking keeps commanders and team members appraised of the situation, even as it evolves moment to moment.
Automatic Vehicle Location (AVL)
Keep track of your team to the incident. Full mobile AVL tactical view automatically displays current locations of vehicles along with the assigned locations for all units responding to the incident. Easily see any annotations made by the Incident Commander using ADASHI C&C.
The intuitive user interface features touch-controlled access to maps, routes, and information.
Touchscreen multi-view mobile GIS give you real-time in-vehicle solutions, with or without internet connectivity, displaying combinations of map layers and related draw settings. Vehicle-centered map, and point-to-point map, or any perspective you choose, can be on-screen side-by-side, along with turn-by-turn directions. Touchscreen controls allow you to adjust scale, perspective, and compass direction, copy and paste map properties and zoom levels and set map bookmarks for frequent use. The display combines built-in, up-to-date street maps with locally available ESRI GIS information.
Street maps plus – Comes with the latest NAVTEQ street maps which include information on hospitals, schools, stadiums, businesses, and other points of interest. NAVTEQ is the world's leading provider of premium digital maps.
Want to learn more about how Adashi can help your organization?