Public Safety Software Leader Discusses International Opportunities for Small Businesses
Baltimore MD: This Thursday, Adashi's president Sanjay Kalasa participated on a panel of small business leaders as part of  Start-up Global, a Baltimore Innovation Week event providing insights on how Maryland enterprises can explore and break into international markets.
Other panelists included Christina Caraballo of Audacious Inquiry and David Tohn of BTS Software. The panel described the resources that Maryland small business owners can take advantage of in their quest to expand beyond domestic markets and direct actions that can affect their chances of success. Kalasa specifically spoke to the steps that Maryland business owners need to consider before attempting to break into a new country's market.
"Before trying to find new business in a global space, it's important to research and evaluate if your product or service is a good fit for the market," Kalasa said. "Connect with local consultants on the ground and identify if you need to modify your product to meet the market's requirements. The U.S. embassy can be a great resource to help businesses find local contacts and navigate the tools you'll need when approaching international business opportunities."
The panel also discussed subjects such as navigating cultural fluency, optimizing your online presence for localized targets, startups' agility in adjusting their business models, and carefully choosing overseas representatives for your company.
"Global markets are incredibly important to us," Kalasa said. "It can be challenging to find the right contacts in new locations operating from our Baltimore headquarters, but there are a variety of free resources available to help you research the market. Ultimately, companies will need to evaluate where they can get traction quickly and determine if they have the patience and time to explore international paths."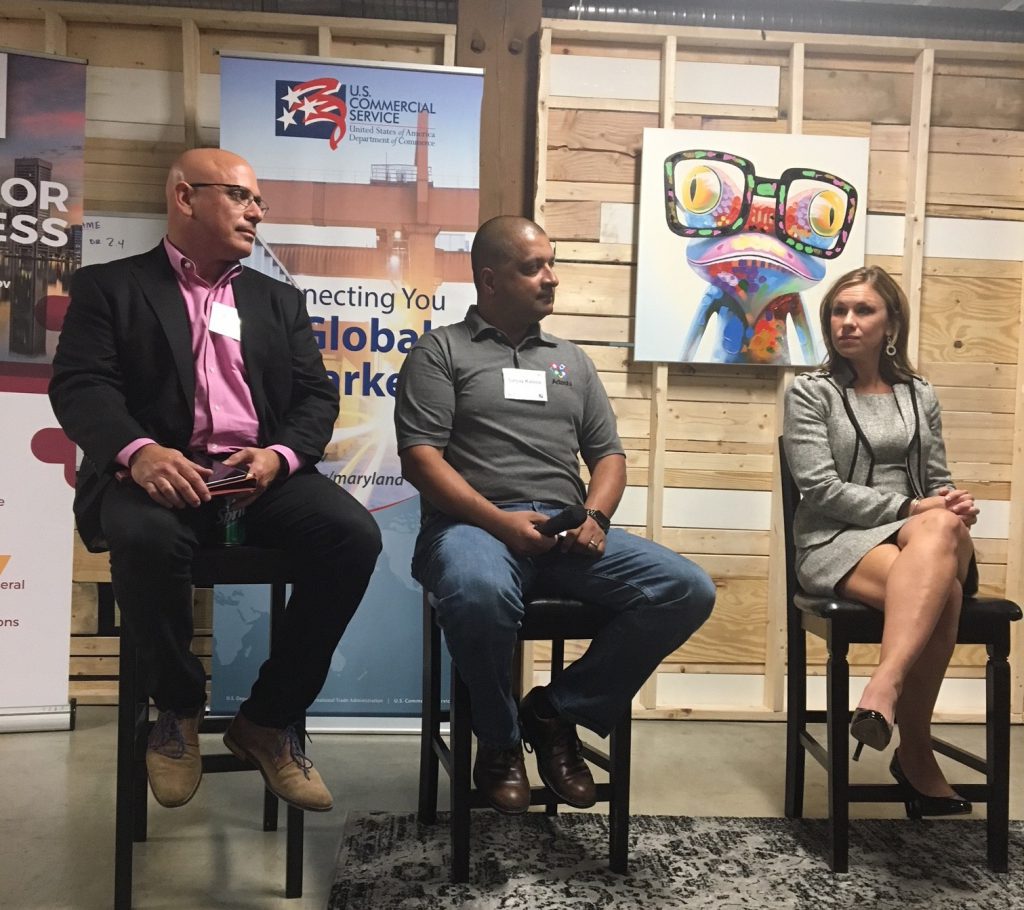 Panelists from left to right: David Tohn, Sanjay Kalasa, and Christina Caraballo.
About Baltimore Innovation Week: Baltimore Innovation Week is an annual open calendar of events each autumn celebrating technology and innovation in Maryland. Learn more at: http://2018.baltimoreinnovationweek.com. 
About Adashi Systems: Adashi Systems LLC is a leading provider of technological solutions to public safety agencies worldwide. Adashi Systems has developed a full suite of products to aid first responders in the staffing, notification, response, management, and reporting of critical incidents. For more information, visit www.adashi.com.
Adashi is a leading provider of technology to public safety agencies worldwide.