Firefighting is often a dangerous profession. However, several innovations in firefighter safety technology aim to better protect first responders from the hazards they face on the job. Below, we'll discuss a few of the methods being used by firefighting departments around the world to improve the health and safety of their staff.
Detect Thermal Conditions
Firefighters can face a variety of hazardous situations. However, some new technologies are precisely designed to monitor changing conditions. The Department of Homeland Security has collaborated with technology firms to research and create these types of products. One innovation of note is a body-worn device that can detect the existing thermal environment.
Lightweight sensors can be mounted on a firefighter's gear. These sensors can tell when the environment has reached a level that will directly impact personal protective equipment (PPE). The product will alert the firefighter that their self-contained breathing apparatus or other equipment is at risk of contamination or deterioration, allowing responders to recognize when thermal levels become dangerous.
These and other similar products directly impact firefighter safety. When protective equipment is no longer fulfilling its responsibilities, responders' personal safety reaches a new threat level. While first responders have traditionally used their eyes and ears to determine when incidents become too unsafe, this product provides alerts before the situation reaches that point.
Using this information, firefighters and command can decide whether to change positions on the incident ground. With access to real-time thermal data, agencies can prepare incident command strategies to maximize firefighter safety and aim to prevent injuries and line-of-duty-deaths.
Plan Evacuation Routes
The fitness industry has taken off in the past few years. There are mobile apps for a variety of health and fitness related functions. But how can these technologies impact public safety?
Many apps on the market can predict how long it will take a user to complete a run, walk, or hike. Researchers are currently exploring how they might use this information to better plan evacuation routes during an emergency. Particularly, some scientists are combining data on wildfire spread and human walking and running capabilities to determine how firefighters can intercept and contain key fires.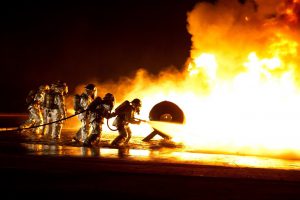 They are working to create an algorithm that would take into account both on-the-ground conditions and the extra weight that firefighters carry from their gear. By looking at fire spread and ground terrain, they hope to be able to estimate how long firefighters will take to get to a fire on foot, and how they might evacuate the area should conditions get worse.
While this firefighter safety technology is still in the works, it could have a massive impact for general public safety. First responders will be able to map the path of the fire and more accurately predict how to approach it effectively. While it might be difficult to use a mobile app while at the incident scene, command could use the information to better position firefighters to avoid Mayday scenarios.
Improve Visibility
One of the biggest hazards that firefighters face is a lack of visibility. When they can't see the incident conditions, they miss out on critical situational awareness.
However, a department in California is experimenting with new technology to assist with nighttime firefighting activities, when visibility is often most severely impacted. They are testing night vision goggles, helicopters, and other new equipment.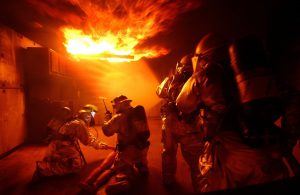 While these technologies will help agencies contain fires and limit spread, they will also assist with firefighter safety. The aerial vantage point shows firefighters existing hazards on the ground, such as swimming pools or electric wires.
With more information on the incident at hand, responders are equipped to handle unique scenarios and avoid unnecessary dangers.